Weddings at Relais Sant'Uffizio
Your Special Day, Made to Measure
The ability to realize what a couple imagines is the main feature of the dedicated wedding staff of the Relais Sant'Uffizio. The historic building or Casa Munfrà offer exclusive and different spaces, all suitable for guests and all multi-purpose, in which to hold parts of the event or even the event itself in full. A tailored assistance, step by step, will help the newlyweds to accurately identify and define every detail.
Relais Sant'Uffizio and Casa Munfrà offer different, even exclusive accommodation solutions, to welcome guests before and after the ceremony, while access to the wonderful Aquanatura Wellness & Spa offers a pampering wellness break as a prelude to a dream wedding.
Planning your wedding is a long but marvellous undertaking, making it exactly conform to the expectations of those who experience the great day is the mission of those who work every day at the Relais Sant'Uffizio.
YOUR SPECIAL DAY
Dream Wedding in Piedmont
Love reaches completeness when two souls combine together in only one breath.
Achieve your dreams of the perfect wedding with an unforgettable experience in Piedmont, with the beautiful Monferrato Hills close by.
You will celebrate your nuptials in the complete peace of nature, surrounded by hills and vineyards, where the wonderful colors of wisterias surround the hotel and its garden.
Relais Exclusively for You
Relais Sant'Uffizio is perfect for an exclusive and private wedding location.
 You can rent our entire property - rooms, internal and external areas, and enjoy complete exclusivity for one or more nights.
Enjoy the privacy of this amazing location fully with your loved ones on your special day.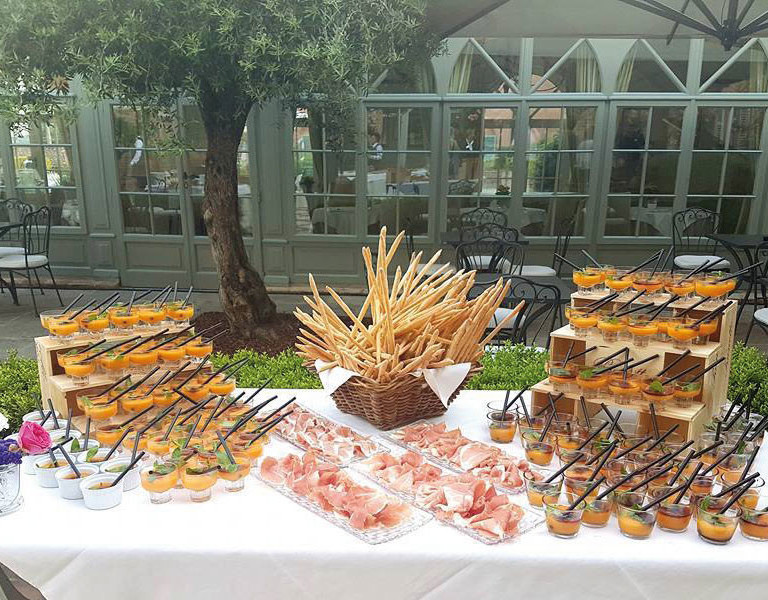 Personalised service and
Excellent Wedding Menu
Relais Sant'Uffizio offers an elegant and romantic atmosphere, surrounded by nature. The Locanda Sant'Uffizio Enrico Bartolini offers unique dishes made by the Michelin-starred chef, and a first class service, to ensure that the most important day is also memorable for the creativity and quality of the proposals offered.
The restaurant staff help the couple to find the most suitable proposals for the event, chosen from a truly surprising carte, capable of combining the local tradition with the innovative verve and the ability to interpret taste of a grande signature of Italian cuisine such as Enrico Bartolini.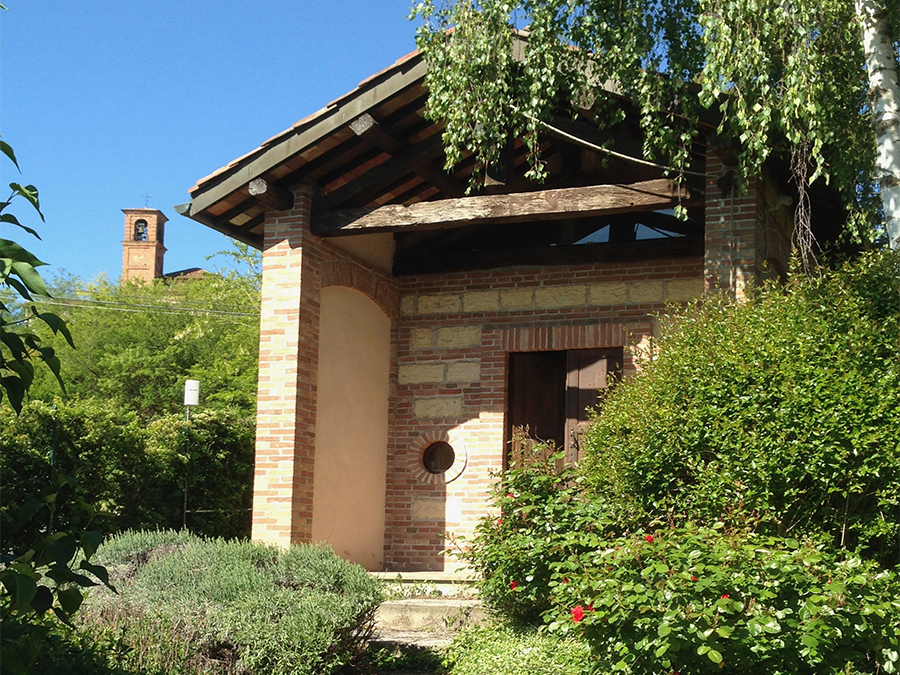 Celebration of civil weddings
Amidst legend, nature and the charme of a secular artistic heritage, the Relais Sant'Uffizio is an enchanting location to frame a dream wedding, be it celebrated inside the finely decorated reception rooms or outdoor, in the shade of the wisteria in the elegant Italian garden, immersed in the vineyards.
The Relais Sant'Uffizio, recently elected "Municipal House" by the Municipality of Penango, enriches its range of excellent services dedicated to the newlyweds by celebrating weddings with an authentic civil ceremony in the presence of the Mayor.
The evocative deconsecrated private chapel inside the property (with a capacity up to 30 people) - once a country church where the monks of the convent and the farmers of the area celebrated their functions and gathered in prayer - will add an intimate and exclusive atmosphere to your unique, unforgettable wedding.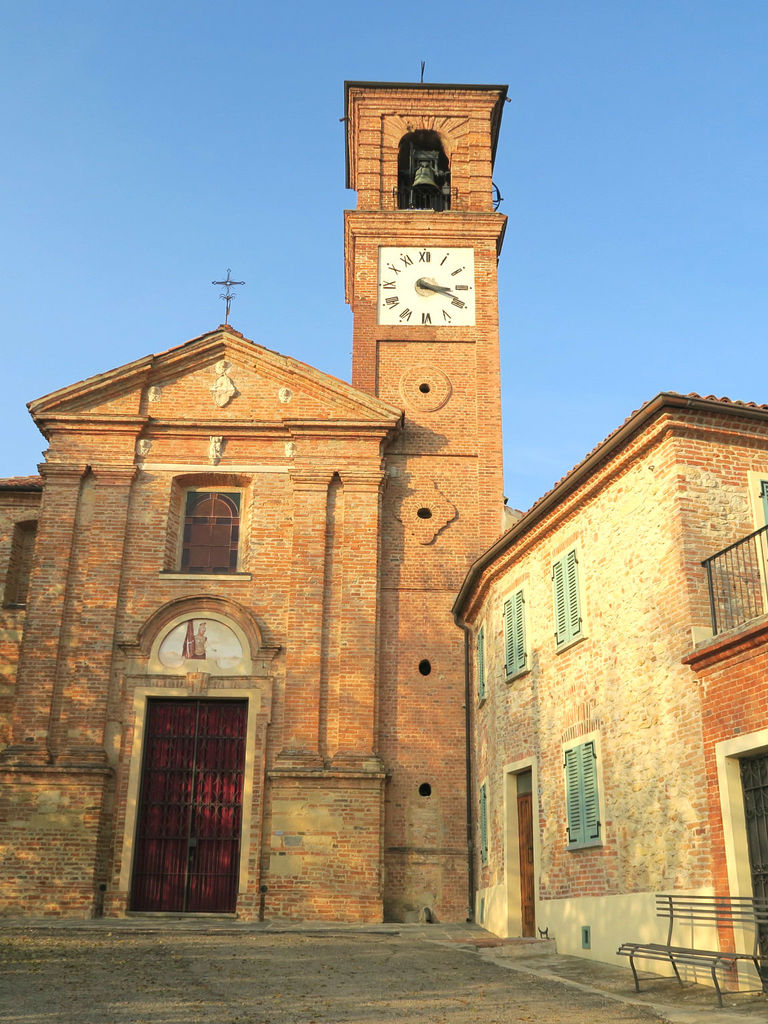 Romantic and Rustic Ceremony
Church of San Vittore - Cioccaro
The Church of San Vittore was completely restored in 2004 and is the perfect venue to celebrate a wedding ceremony. Located just 200 meters from the Relais, the church is easily reachable on foot from the hotel.
Alternatively, you can opt for a symbolic ceremony in the the Relais Sant'Uffizio parkland, in a tree-lined setting decorated with wisteria, in a spellbinding, lively natural setting.
MEMORIES TO LAST A LIFETIME
Why Say "Yes I Do" at the Relais Sant'Uffizio
Internal 360° wedding planner: we will help you plan every detail (florist, music choice, hairdresser, symbolic rituals and more)
All the couples who marry at Relais Sant'Uffizio will benefit from a 10% discount on all accommodation bookings in the future on their anniversary
Anniversary and Honeymoon packages: we invite all the couples who got married at Relais Sant'Uffizio to spend their anniversary day with us and enjoy the following benefits:
Welcome aperitif at our lounge bar
Access to the Aquanatura SPA for the entire day of check-out until 18:00, subject to availability
10% discount on massages and treatments on our price list
Late check-out whenever possible
Contact us for further information!
LUXURY WEDDING VENUES
Beautiful Rooms For Your Celebration Of Love
Glicine Hall and Parco Hall are our grandest function suites. These adjoining rooms can hold up to 270 guests, providing ample space for even the largest and most luxurious ceremonies. The stunning outdoor courtyard is available for photography and for guests - perfect for a summer wedding.
The Limonaia is the venue to choose for intimate ceremonies of up to 40 guests. Tastefully decorated for classic elegance, this light and airy room at Relais Sant'Uffizio has enough space for your service and can be transformed for the evening's entertainment. The beautiful courtyard is also available for outdoor dining, live music and more.
PREPARE FOR YOUR BIG DAY
Wedding SPA Packages
Guests who are getting ready for the big day and want to look and feel their best can check into the Aquanatura Wellness SPA, where a range of luxurious treatments await the bride, groom and guests. Visit alone for some peaceful time for yourself, or make the trip part of your honeymoon or wedding celebrations together. Pre-wedding visits are also welcome, with group bookings required in advance.
PACKAGE FOR THE GROOM
PACKAGE No. 1
Head massage 25 minutes
Energy visage treatment 50 minutes
Total € 105 (-10%) € 90
PACKAGE n.2
Head massage 25 minutes
Manicure
Pedicure
Total € 125 (-10%) € 110
PACKAGE n.3
Perfect back 50 minutes
Back Massage 25 minutes
Total € 100 (-10%) € 90
PACKAGE FOR THE BRIDE
PACKAGE n.1
Visage Aromaplastie 50 minutes
Perfect legs 50 minutes
Total € 150 (-10%) € 135
PACKAGE n.2
Visage Aromaplastie 50 minutes
Perfect legs 50 minutes
Manicure € 35
Tot. € 185 (-10%) € 160
PACKAGE n.3
Visage Aromaplastie 50 minutes
Perfect legs 50 minutes
Manicure
Pedicure
Total € 240 (-10%) € 200
HONEYMOON PACKAGE
PACKAGE n.1
Private Spa 1 hour
Couple massage 50 minutes
Total € 240 (-10%) € 200
PACKAGE n.2
Private Spa 1 hour
Couple massage 50 minutes
Visage couple massage 50 minutes
Total € 400 (-10%) € 350
Make Your Dream Come True!