A GOURMET DINING EXPERIENCE
Discover Ristorante La Locanda
Known for its luxurious white truffles and fabulous local wines, the Piedmont region was a natural location for renowned chef Marco Mazzocco and skilled maître d' Fabrizio Mietta to work. This talented team has crafted the exquisite menus at Ristorante La Locanda, the premier dining venue at Relais Sant'Uffizio. From a la carte lunches to three-course dinners, the local influences and fresh ingredients make La Locanda truly unforgettable.
Discover authentic Italian dining before taking in drinks at the adjoining Bar La Locanda del Sant'Uffizio, which offers courtyard views and a great atmosphere.
OPENING TIMES FOR RISTORANTE LA LOCANDA
Breakfast available daily between 07:30 and 10:30
Light snacks and lunch served from 12:30 until 17:30
A la carte dinner menu offered between 19:30 and 21:30
A la carte lunch on Saturday/Sunday between 12:30 and 14:00
Explore
Piedmont's Regional Cuisine
The region of Piedmont is renowned for its local cuisine, which lends itself perfectly to the area's superior wines. Perhaps most famous for its varieties of pasta, such as Agnolotti piemontesi, other local favourites include Bagna càuda - a fusion of vegetables, olive oil, anchovies and butter; and vitello tonnato - prime cuts of veal covered in a delicious creamy sauce.
Other popular dishes include bollito misto, a classic Italian stew that is often finished with shavings of the region's white truffles. Risotto is another local favourite, as is Piedmont beef tartar. Perhaps drawing influence from neighbouring France, Piedmont also offers an incredible array of cheese. Other dessert choices include nougat, panna cotta and bunet.
DISCOVER PIEDMONT'S FINE WINES
Luxurious Tastes Of Locally Grown Grapes
The Monferrato region is known across the world for its production of the finest grapes, which are pressed into some highly prestigious wines. Locally grown Barbera d'Asti, Grignolino and Barolo are poplar choices in our restaurant La Locanda, and can be discovered by guests during tasting tours. In the hotel's bars, the wine theater stocks over 300 regional varieties, including fine French champagnes and deep Italian reds.
Private tours and sessions can be arranged with Maitre d' Mr. Daniele Genovese, who is Relais Sant'Uffizio's resident wine specialist. Guided tours for couples and groups can be arranged on request and are included in many of our exclusive guest packages.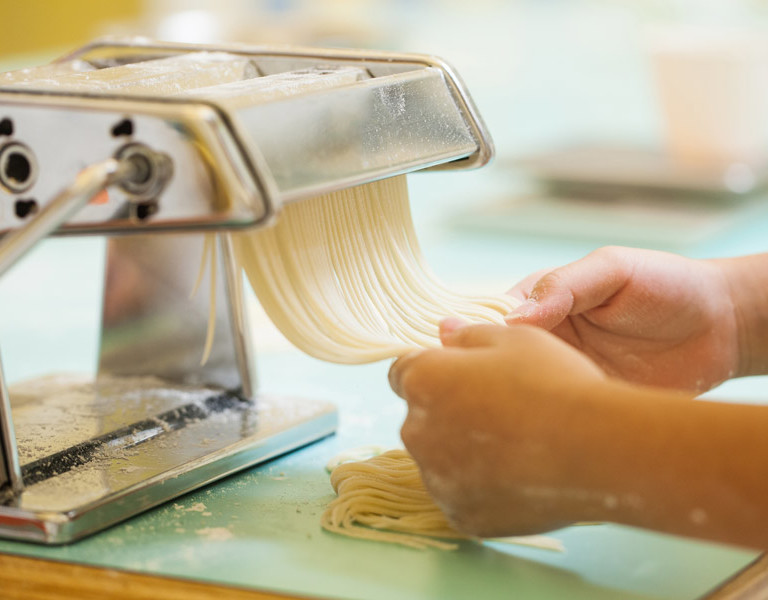 CUSTOM COOKING CLASSES
Learn Authentic Italian Cooking Skills
Make your break truly memorable and take home skills to last you a lifetime with the bespoke cooking classes at Relais Sant'Uffizio. Discover the process of hand-rolling fresh pasta and learn how to complement any dish with the right miz of herbs and flavors. The cooking classes can be arranged for individuals, couples or groups as preferred and are offered on afternoons by special request. To book your own bespoke cooking class, contact Relais Sant'Uffizio today.
Book Your class