Meetings and Conferences at Moonfrà by Sant'Uffizio
A Fully Equipped Meeting Room For Business Events
The Moonfrà by Sant'Uffizio has recently been renovated to the highest standards, and we have created a unique combined area that can be used as a social space, or reimagined as a meeting venue. The meeting space is perfect for presentations, staff training and workshops, and for smaller conferences and meetings. Businesses benefit from state of the art technology and comfortable, bright surroundings, all set among the beautiful Monferrato hills in Italy's gorgeous Piedmont region.
You can contact the Moonfrà by Sant'Uffizio directly to book the meeting space. Let us know any special requests at the time of booking, and we will do all we can to accommodate them.
Visit our Photo Gallery
The Quercia meeting room has 85 square metres of space, and features traditional ceiling beams and elegant décor to reflect the building's monastic history. Impress your clients and your colleagues by holding your next business event at the Relais Sant'Uffizio.
The Pianoforte room can be found next to the Quercia room, offering additional space for events. A smaller room, it is best suited to private meetings or as a secretarial or administrative centre during a business event. It is perfect for workshops and group working.
The Glicine conference room provides around 300 square metres of comfortable open space, which can be set up to suit any occasion. Equipped with state-of-the-art technology and comfortable furnishings, this is the ideal venue for larger events.
The Parco room is notable for the natural light it receives, making this a great room for workshops, product showcases and practical sessions. With room for up to 40 delegates, this room works best as a meeting venue or for smaller business events.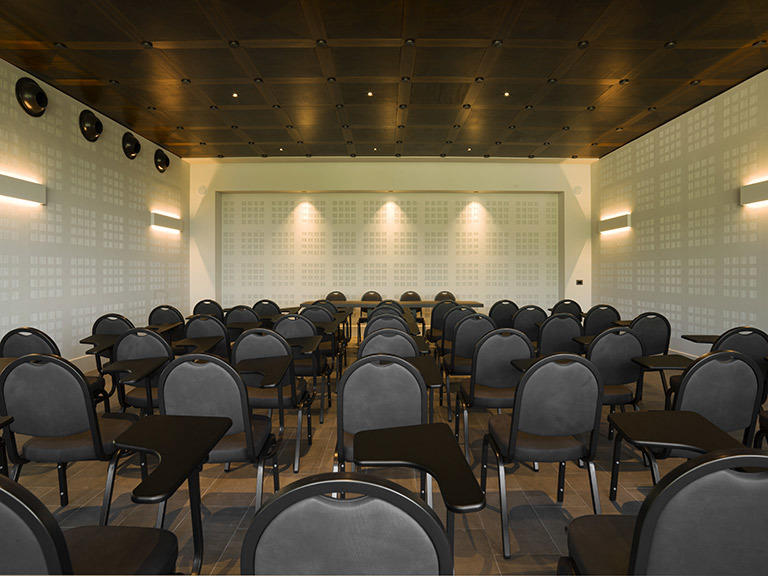 Meeting And Conferences At Moonfrà
Moonfrà by Sant'Uffizio was recently renovated to the highest standards, our hotel and suite complex offers traditional architecture with modern furnishings and state-of-the-art technology.
BUILD YOUR TEAM
Business Events And Networking
The Relais Sant'Uffizio is the perfect destination for team-building and bonding activities, training sessions and client meetings. Make use of the exclusive Aquanatura SPA, enjoy sports and hobbies within hotel grounds, or arrange a culinary experience for your participants through the Ristorante La Locanda.
Contact Events Department